More scooter tragedy from Taiwan's east coast.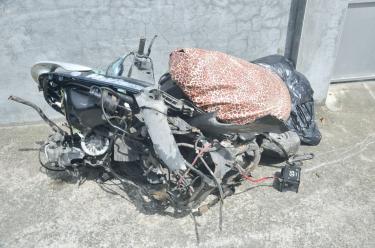 The remains of a scooter ridden by a brother and sister killed by a drunk driver in Taitung.
"Taitung police said a patrol car had tried to stop Wang's car at 4am in Taitung to conduct an alcohol check, but he had sped away.
A few minutes later, Wang crashed into the college-aged Wu Hsin-ying and his sister, who were on a scooter, police said.
Wu Hsin-ying died at the scene, while his younger sister was taken to a hospital, where she later died, police said."
The alleged driver is already out on bail of US$3,300
Taiwan currently has some of the strictest drunk driving laws in the world. The China News
reports
Starting from Thursday, it will be illegal to operate a vehicle with a blood alcohol level at or above 0.03 per cent or 0.15 ml ethanol per litre of breath, the National Police Agency (NPA) announced yesterday, in a move that further lowers the legal alcohol blood content for drivers.
The NPA said that Taiwan has followed Japan to officially adopt a zero tolerance for drunk driving, noting that the new DUI limit is the toughest in the world.
According to the NPA, a 70-kilogram adult who drinks one beer may breach the allowable DUI blood-alcohol limit and thus be liable for a fine. Drinking two beers or more and then operating a vehicle could result in imprisonment.
While the blood alcohol limit is low, and fines are steep for Taiwan, it remains to be seen whether
"clamp down"
style of enforcement (short-term, inconsistent) will make much difference. Scooter riders have the most to lose (along with pedestrians) from drunk drivers.
Drunk driving accidents are the No. 1 cause of deaths in the nation.
Meanwhile, Focus Taiwan reports some good news. Deaths caused by drunk drivers are down.
According to police statistics, police caught 50,326 people driving under the influence in Taiwan in the first five months of the year, with the cases of 19,174 offenders referred to prosecutors.
During that period, 125 were killed in traffic accidents caused by drunk driving, 51 fewer than during the same period last year.